Quality Management System Software
Delivering Compliance with Ease
Where ISO and AS9100 compliance meets simplicity.
Streamline your quality management with our all-in-one solution that integrates various standard and optional modules tailored to suit your organization's specific needs.
Book A Demo
Boost efficiency, ensure compliance, streamline workflows, and enhance quality control with our integrated Quality Management System, tailored to your organization's unique needs.
Inspection and Non-Conforming Material
Optimize your quality control with this easy-to-use module that records and tracks all inspections and non-conforming materials, ensuring compliance with ISO 9001 and AS 9100 standards.
Efficiently handle discrepancies

Ensure follow-up activities

Obtain faster approvals
Document Control
Ensure your documents are up-to-date and accessible with our Document Control module.
Automate document review and approval process

Facilitate document retrieval with intelligent search

Prevent the use of outdated materials with centralized control
Employee Training
Manage your organization's training needs efficiently and effectively with this module. 
Effectively manage training schedules and records

Define flexible training requirements

Automate alerts for training schedules
Corrective Actions
Identify, address, and prevent issues with our Corrective Actions module.
Simplify recording, managing, and tracking corrective actions

Facilitate root cause analysis process

Ensure consistency and progress with automated management
Internal Audits
Design and manage your internal audit plan with this comprehensive module.
Simplify internal audit planning and management

Record audit results effectively

Schedule follow-up audits easily
Unlock Additional Capabilities
Enhance your quality management system with our optional add-on features. Tailor your software to meet your specific needs and maximize efficiency across your organization.
Calibration Management Module (Optional)
Keep track of all measuring devices within your organization.
Streamline management of measuring devices

Facilitate easy scheduling of calibration

Enhance effectiveness with automated alerts
Contract Review Module (Optional)
Ensure all customer purchase orders are reviewed comprehensively and electronically.
Facilitate electronic review of customer orders

Ensure order requirements are met before acceptance

Facilitate quick resolution of identified issues
First Article Module (Optional)
Manage first article inspections by part number, revision level, and customer.
Manage first article inspections effectively

Link unlimited files to inspection records

Manage destructive inspections and dispositions
Preventive Maintenance Module (Optional)
Maintain all equipment and assets within your organization efficiently.
Manage preventive maintenance tasks effectively

Reduce the risk of equipment failure

Manage inventory and spare parts efficiently
Control Plan Module (Optional)
Establish clear inspection and pass/fail requirements for each part number and revision level.
Define specific inspection and pass/fail requirements

Manage vendor or supplier inspection methods

Link drawings for easy view during the inspection
Discover the Possibilities
We provide the resources to help you make the most of these game-changing features in quality management.
Cloud-Based Solution
Access your quality management system anytime, anywhere with our secure cloud-based software.
Integration Capabilities
Seamlessly integrate with other applications such as ERP or CRM systems to streamline your operations.
Data Analytics
Harness the power of your data with our in-depth analytics tools. Visualize and track performance metrics to inform strategic decision-making.
Scalability
Our software is designed to grow with your business. It can be easily adapted to suit your evolving needs, whether you're a small start-up or a large enterprise.
Data Security and Compliance
Rest assured knowing your data is protected with top-tier security measures. Our software complies with all relevant data privacy and protection laws.
Simple Navigation
Quick and easy navigation to all modules with single-click access.
Automated Reporting and Emailing
Automated emails incorporate a "push" method for delivering critical and time-sensitive information to users.
Best-in-Class Customer Service and Support
Experience 100% USA-based support
Prompt Response
Timely support response via phone, email, or online session, implementation support and guidance, and prompt resolution of software bugs and issues. 
Open-Source
Customize the software to meet your needs, add new data tables and fields, and modify existing forms and reports.
Ready to Start?
Need demonstrations or personalized solutions?
We're just a call or an email away to discuss our range of products and how they can optimize your organization's processes.
Contact Us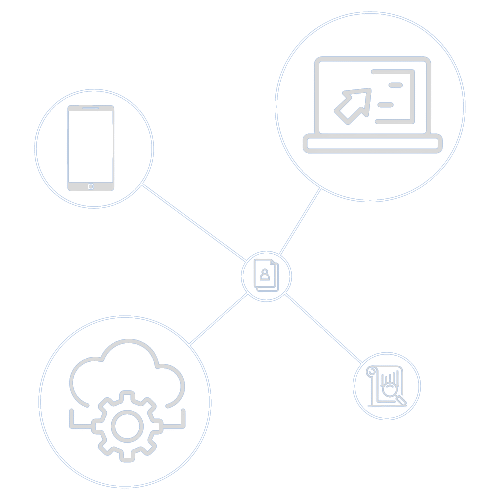 Customized Solutions: Your System Grows With You
With experience in the aerospace, military, and related sectors, we understand your unique requirements. Our aerospace quality management system delivers cost-effective applications tailored to meet your immediate needs and equipped to adapt as your business expands. With us, you get the scalability and flexibility necessary for your organization to thrive.
24/7 Support: We're Always Here For You
We believe that exceptional customer service isn't confined to business hours. We're committed to supporting our customers 100% of the time, ready and willing to assist you whenever you need it.
Quality and Service: Exceeding Expectations
Our paramount goal is to outdo your expectations in terms of both our service and products. As a testament to the excellence we consistently deliver, our business growth is fueled largely by word-of-mouth advertising.
What Our Customers Think of Us!
Database Providers has played a pivotal role in the development and maintenance of a fully custom and adaptable database to fit our Company's unique needs. Database Providers staff was instrumental during the development process.  Their knowledge of coding and the ability to grasp our desired outcome helped create a dynamic solution that we are continually honing as our needs change with the growth of our business. Database Providers staff are consummate professionals and has met challenging deadlines with poise.  We look forward to the long-term relationship with Database Providers as our business expands. Database Providers is an invaluable resource for any company looking for custom database solutions.
Michael M, CEO and Founder, Environmental Consulting Firm
Database Providers brings an un-matched level of customer service to its already proven portfolio of electronic data collection and management systems!  The personal interaction and ability to completely customize the already AS9100 designed Quality Management System Database to fit our unique processes, has been a huge asset to our Aerospace Business and our employees for the past 10 years.  We couldn't be more happy with the results!!
Daniel D, Director of Quality, Aerospace Company
Our Navy Program has been working with Database Providers to help update our personnel database. Database Providers genuinely goes over and beyond to listen to our inquiries and comes up with a solution. Database Providers have worked with our Navy Program over the past three years and understands our service delivery goals. We are able to run report fast, have clear understanding of our client status and capture case management so any staff member going into the database would know what is happening and what is the next steps.
Database Providers support has elevated our small little database to a well-functioning database that streamlines my staff work and allows us to capture reports quickly.
Marie S, Sr. Director of Military Respite Care, Worldwide Non-Profit Youth Organization
Database Providers offers low cost Microsoft based solutions for many standard manufacturing quality related applications. We have implement training and corrective action databases from their standard product offerings with minimal customizations required. Customizations were performed in a timely and also at low cost. Since the product is Microsoft based, our IT department did not need to be involved. I would recommend Database Providers for your manufacturing system's needs.
Kevin H, Quality Systems Manager, Aerospace Company
When looking to upgrade our quality system workflows and data management in our ISO 9001 manufacturing facilities Database Providers offered us immediate "off the shelf" solutions for non-conforming material, corrective actions, training and gauge calibration.  They quickly tailored their existing products to meet our specific needs utilizing their unique combination of expertise in ISO quality systems and database development.  When technical problems arise they're very responsive with a solution typically provided within a working day. I have and will continue to recommend Database Providers to other companies.
Darren K.  Engineering Manager and Supervisor of Quality, Manufacturing Company